BISHOP BASIL HOPKO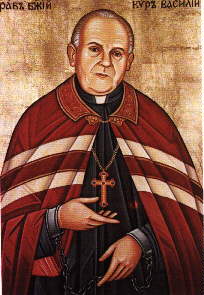 By his steadfast loyalty to the Holy See, his great love of the people, and his dedicated pastoral work Bishop Basil Hopko, the Auxiliary of Prjashev (1947-1976), proved beyond any doubt that he was indeed worthy of his episcopal dignity. As bishop he suffered persecution, imprisonment and great humiliation for his Catholic faith. However during the rehabilitation of the Greek Catholic Church in Czechoslovakia "his own did not accept him" (Jn. 1:11) as their Shepherd and cunningly removed him from the administration of the Prjashev Eparchy. In his distressing agony he humbly resigned to the holy will of God. Since he bravely suffered as a "prisoner for the Lord" (Eph. 4:1), he deserves to be honored as our Confessor of the Faith.
Bishop Basil Hopko, S.T.D. was born on April 21, 1904, in the village of Hrabske, on the border of the hilly district of Sharish, presently in Eastern Slovakia. His parents, Basil and Anna nee Petrenko, were poor peasants, without any land of their own. He was hardly one year old when his father was struck by lightning and died. When he reached his fourth birthday his mother left him with the Petrenko family, while she departed to the United States in search of bread.
Bishop Hopko received his primary and secondary education in the Hungarian schools, and was graduated with honors from the Evangelical Gymnasium in Prjashev, 1923. Supported by his mother in America, he continued his education at the Eparchial Seminary in Prjashev. Mrs. Hopko intended to bring her son to the United States, hoping that Bishop Basil Takach (1924-1948) would ordain him as a priest for the Pittsburgh Exarchate. However her dreams were never realized.
As the young Hopko was getting ready for his journey abroad he became sick and had to undergo several operations. In his Memoirs Bishop Hopko writes: "Having spent all my travelling money on doctors and hospitals, I gave up the hope of seeing my mother again. At that time I did not realize that it was God's holy will to keep me in my native land."
He ascribed his unexpected recovery to a "miracle" that resulted from his Novena to the Sacred Heart of Jesus, He promised Jesus that if he would be cured, he would receive Holy Orders in celibacy. He was ordained priest by Bishop Paul P. Gojdich, O.S.B.M. on February 3, 1929.
2. After his ordination Father Hopko was appointed to organize a new parish in Prague, the capital of Czechoslovakia. At that time there were many Greek Catholics among the government officials, soldiers, students and workers that were living there. Father Hopko started his missionary work with great zeal and dedication. In a short time he acquired the beautiful church of St. Clement, which since has become a spiritual center of the numerous Rusyn faithful living in Bohemia. There he was also joined by his mother who, after 22 years of hard work abroad returned to her native land and to her priest-son and became his housekeeper.
In his pastoral work Father Hopko displayed great love for the poor people, especially for the unemployed workers and students. Those were the years of economic depression and the Communists were eager to get our people into their organizations by any means. But the watchful eye of Father Hopko frustrated their intentions. He was justly rewarded with the title of Monsignor in 1936.
In addition to his full schedule Father Hopko somehow managed to continue his theological formation at the famous Charles University. He completed his last semester at Komensky University in Bratislava, where he earned his doctor's degree in Sacred Theology in 1940. At that time he was already teaching at the Eparchial Seminary in Prjashev.
It must be mentioned that Monsignor Hopko also became a victim of the malicious Slovak campaign against Bishop Paul P. Gojdich, OSBM during the Tiso regime(1939-1944). Eventually Monsignor Hopko was forced out of the Seminary and denied his salary. After World War II, when the Slovak pressure somewhat subsided, Monsignor Hopko was entrusted by Bishop Gojdich with the Rusyn religious press, which had been completely banned under the Tiso regime. In 1946, Monsignor Hopko started the publication "Blahovistnik," provided our people with yearly almanacs, "Kalendar Blahovistnika," and supervised the publication of spiritual booklets, "Knihi Blahovistniha." He himself authored four of these pamphlets.
Foreseeing political turn-over in Czechoslovakia, Bishop Gojdich petitioned the Holy See and received an Auxiliary Bishop in the person of Monsignor Basil Hopko, S.T.D. The episcopal ordination took place at the cathedral in Prjashev, May 11, 1947. Thus Bishop Hopko became the right hand of Bishop Gojdich, who had already started to prepare his faithful for the imminent seizure of power by the Communists that came in February, 1948.
The Communists immediately began their anti-religious propaganda and maliciously attacked the Greek Catholic Church. The worst had to be expected. Finally, on April 28, 1950, the Communist authorities brutally liquidated the Eparchy of Prjashev and imprisoned Bishop Hopko. For the time being they kept him isolated, hoping to persuade him to join the Orthodox Church. But he did not give in. Subsequently, they decided to put him on trial, accusing him of alleged "subversive activity."
They took Bishop Hopko to the central investigatory prison in Ruzin, near Prague, in order to "condition him" for a trial. First they locked him up in a dark solitary cell where he completely lost count of time. Then they made him walk without any rest for 122 consecutive days. During that period of time his diet consisted of a piece of stale bread and a glass of water. At the end his legs became swollen like logs. Describing this ordeal, Bishop Hopko remarks: "In my mind I already began to envision my own funeral. But I kept praying for strength to persevere and to remain faithful to the Catholic Church."
They brought him to trial in the spring of 1952. On account of his allegedly "subversive activity" and contacts with a "foreign powers, meaning the Apostolic See, they condemned him to fifteen years in prison. Thus his "pilgrimage" from one prison to another began. Twenty-one times in all. He was not spared even the worst penitentiaries.
Reminiscing on his prison days, Bishop Hopko says: "I had to endure many difficult moments. which I would not wish even on my worst enemies. Nevertheless, I consider my prison days as a higher education in humility. In prison I learned a great many things, as how to be of service to others in their need. Prison in itself is not such a terrible place after all. What is frightening is the company one is forced to keep, being locked up in the same cell with all kinds of criminals, spies, insane, and some other strange characters."
Long years of prison life and harsh treatment by the prison guards finally undermined Bishop Hopko's health. He suffered acute mental depression, but the prison authorities refused him any medical assistance. Bishop himself admitted: "At that time everything looked very gloomy to me. I was unable to sleep, I lost my appetite, and suffered severe irregularity. I became only a shadow of a human being, hardly able to walk. I lost even the desire to live. Only my faith and prayers kept my mind sound. But finally the good Lord saved me from my indescribable distress."
In the fall of 1963 Bishop Hopko suffered another severe attack of depression. This time the warden was more humane and sent him to a special clinic in Prague, On the advice of his doctor Bishop Hopko petitioned to be released from prison on account of his ill health. Strangely enough, he was released in the summer of 1946 But he was not allowed to return home. He was confined to a home for the aged in Osek, Bohemia, where he stayed under constant police surveillance.
After a long period of prison even the home for the aged seemed like a little paradise, as he himself admitted: "I never had it so good, except when I was living with my mother. The most important thing is that here I have sufficient time for prayer and I am able to lead a truly spiritual life."
In Osek there were about 160 elderly Sisters that were concentrated by the communist authorities. They were from various Czech, Slovak and Hungarian convents. Bishop Hopko was happy to be able to extend spiritual assistance to them since he spoke all three languages fluently. His kindness and charity became known to all the Sisters, and they nicknamed him "Our Golden Man."
In the spring of 1968, the communist policy under the leadership of Secretary Alexander Dubchek was liberalized. At that time the government even agreed to restore the Greek Catholic Church, which was violently suppressed in 1950. Bishop Hopko, as soon as he was released from his confinement in Osek, initiated the drive for the restoration of the Prjashev Eparchy. On June 13, 1968, the eparchy became officially recognized. It was expected that Bishop Hopko would become the administrator of the restored eparchy.
As the necessary steps for Bishop Hopko's rehabilitation were being made, Slovak activists among the clergy struck again. They decided to replace Bishop Hopko with "a Slovak Bishop" and initiated a malicious campaign against their own bishop. The opposition prevailed and Bishop Hopko was removed from the administration of the Prjashev Eparchy.
In his Report Bishop Hopko warned the Holy See: "I have sufficient reason to believe that the Slovak members of the Acting Committee are attempting to remove me from the administration of the eparchy and to curtail my authority. I bow my head to God's will, since I want to remain loyal to the Holy See. But I am afraid that the people, when they find out what had happened, will be disturbed and cause some harm to the Church."
It happened exactly as our brave Confessor predicted. About 35 parishes failed to return, and the Eparchy of Prjashev remains without a bishop to the present day.
As the end of Bishop Hopko's life was approaching, he kept repeating: "I want to go home!" When the attending Sisters pointed out to him that he was home, in his own residence, he just mumbled: "Eh, you do not understand!" Bishop Hopko considered his death a homecoming. And the Heavenly Father finally called His faithful servant home on Friday, June 23. 1976.
Bishop Hopko for his long sufferings, humiliating imprisonment and heroic faith deserves our admiration and deep respect. He is our own Confessor. Therefore, we should remember him and pray for his beatification.
---
POSTHUMOUS RECOGNITION
"Bishop Hopko was a part of our people and of our Greek Catholic Church. By his long sufferings and heroic faith he vividly personified our Venerable Eparchy. In the school of prayer and vexation he learned deep humility. To us he was an exalted example of true Christian life, a concerned father, and a trusted friend. Because of his childlike innocence he preserved his peace of mind till the end of his trying life."
(Blahovistnik, 1976, n. aa, p. 14)
---
Byzantine Leaflet Series
No 41
With Ecclesiastical Approbation October 1987
Byzantine Seminary Press
Pittsburgh, PA 15214
Back to Carpatho-Rusyn Spirituality Index