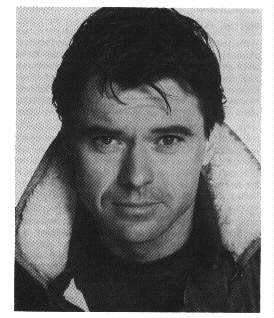 ROBERT URICH
---
What famous Hollywood actor makes his own kolbasi. bakes pascha, and serves babulky on Christmas Eve? The answer: Robert Urich. Known to millions of Americans simply as "Spenser," Robert Urich embodies in his personal life many of the characteristics he portrays as the tough yet sensitive private detective featured in the television series "Spenser: For Hire." Like Spenser, Urich is serious about his work, devoted to his family, aware of the needs of others, and, yes, likes to cook.
In a recent personal interview for the Carpatho-Rusyn American, Urich discussed his life and background. Urich was born in 1946 in Toronto, Ohio, a small mill town near the West Virginia border. Of mixed Rusyn and Slovak descent, he is one of four children born to Cecilia and the late John Urich. His grandparents arrived in the United States shortly after the beginning of this century. His paternal grandpar ents, Peter Juric and Theresa Pillar, were born in the Carpatho-Rusyn villages of Venecia and Lukov (Sarys County) in the pre-World War I Hungarian kingdom, today part of the Presov Region of northeastern Czechoslovakia. His maternal grandparents, Michael Chalpty and Barbara Zahar, originated from Roman Catholic villages in the western part of Slovakia.
Like many Americans of Rusyn descent, Urich recognizes that religious faith occupied a central role in his childhood development. His religious upbringing reflects the interfaith traditions of his parents. His father was Byzantine Catholic and his mother Roman Catholic. As a child, he attended two churches, St. Joseph's Byzantine Catholic Church and St. Joseph's Roman Catholic Church, both in the town of Toronto. Although baptized in the Byzantine Catholic church, he received his first Holy Communion in both churches with one ceremony just 24 hours after the other. The young Urich was educated by the Sisters of St. Cyril and Methodius, and he served as an altar boy at St. Joseph's Byzantine Catholic Church. He recalls what a profound effect his religious training had on him, offering him an appreciation of ritual, tradition, and closeness to God and to one's culture.
Family life, likewise, proved to be an important influence during Urich's formative years. The son of a steelworker, he learned the meaning of family, hard work, and prayer. It was in this context that Urich came to develop his strong sense of ethnic identity. Growing up with the languages, customs, and traditions of his Rusyn and Slovak parents, Urich also developed his penchant for good Slavic ethnic food. He mastered favorite family recipes and continues to serve up great dishes when time in his busy schedule permits. He fondly reminisces about his mother's reassurances to him when he was about to leave for college that a pot of steaming homemade soup is the best remedy for homesickness and all other ills.
Urich began his acting career after completing college at Florida State University and graduate school at Michigan State. He worked in a variety of films, television, and theatrical productions. It was while filming a commercial some 15 years ago that Urich met Heather Menzies, his future wife. Urich's first major role in a television series was as Dan Tanna in "Vegas." He also has starred in numerous television mini-series such as "Amerika" and the more recent "Lonesome Dove."
Urich is perhaps best known, however, as the star of "Spenser: For Hire." Based on the novels of Robert Parker, Spenser is a tough yet compassionate detective who is as comfortable apprehending a convicted criminal as he is reciting poetry. The series, which was filmed on location in and around Boston, enjoyed tremendous popularity. Spenser became a regular guest in the homes of millions of Americans throughout the country. Currently, Urich is preparing for a new series scheduled to air later this year. Titled "American Dreamer," this situation comedy will feature the adventures of a father (played by Urich) raising his children with traditional values in southern California. Urich has already left his mark on Hollywood and has established himself as a serious and talented actor whose career has only just begun.
Off screen, Urich describes himself as very much a family man. He and his wife Heather have two young children, Ryan and Emily. Family life is paramount to Urich who has not allowed the Hollywood lifestyle or demanding schedule to interfere. In addition to work and family commitments, Urich maintains a genuine interest in helping others. Whether fund-raising for a local children's hospital, teaching catechism, helping out at his children's school, or marshalling a holiday parade, Urich has assumed an active role in the community. His contributions have touched the lives of many, young and old alike.
Central to all of this is Robert Urich's longstanding commitment to his Rusyn and Slovak heritage. He has integrated its rich history and tradition into his life and that of his family. In a world of rapid change and sometimes questionable values, Urich's Slavic tradition has served him as a source of comfort, meaning, and pride.
Mary Ann Gaschnig Dracut, Massachusetts
---
Copyright ©1989, Carpatho-Rusyn American Vol. XII, No. 1