DECLARATION OF COMMON AIMS
OF THE
INDEPENDENT MID-EUROPEAN NATIONS
IN CONVENTION ASSEMBLED AT INDEPENDENCE HALL
PHILADELPHIA, PENNSYLVANIA, UNITED STATES OF AMERICA
ON OCTOBER TWENTY-SIXTH, ONE THOUSAND NINE HUNDRED
AND EIGHTEEN.
We, representing together more than fifty million people constituting a chain of nations lying between the Baltic, the Adriatic and the Black Seas, comprising Czecho-Slovaks, Poles, Jugoslavs, Ukrainians, Uhro-Rusyns, Lithuanians, Roumanians and Italian Irredentists, Unredeemed Greeks, Albanians, Zionists and Armenians, wholly or partly subject to alien domination, deeply appreciating the aid and assistance given our peoples by the government and people of America and of the entente allies, on behalf of ourselves and our brethren at home, do hereby solemnly declare that we place our all - peoples and resources - at the disposal of our allies for use against our common enemy, and in order that the whole world may know what we deem are the essential and fundamental doctrines which shall be embodied in the constitutions hereafter adopted by the peoples of our respective independent nations, as well as the purpose which shall govern our common and united action, we accept and subscribe to the following as basic principles for all free peoples.
First. That all governments derive their just power from the consent of the governed.
Second. That it is the inalienable right of every people to organize their own government on such principles and in such form as they believe will best promote their welfare, safety and happiness.
Third. That the free and natural development of the ideals of any state should be allowed to pursue their normal and unhindered course unless such course harms or threatens the common interest of all.
Fourth. That there should be no secret diplomacy, and all proposed treaties and agreements between nations should be made in public - prior to their adoption and ratification.
Fifth. That we believe our peoples, having kindred ideals and purposes, should coordinate their efforts to insure the liberties of their individual nations for the furtherance of their common welfare, provided such a union contributes to the peace and welfare of the world.
Sixth. That there should be formed a league of the nations of the world in a common and binding agreement for genuine and practical cooperation to secure justice and therefore peace among nations.
In the course of our history, we have been subject to, and victims of aggressive and selfish nations and autocratic dynasties, and held in subjection by force of arms.
We have suffered destruction of our cities, violation of our homes and lands, and have maintained our ideals only by stealth, and in spite of the tyranny of our oppressors.
We have been deprived of proper representation and fair trial. We have been denied the right of free speech, and the right freely to assemble and petition for the redress of our grievances. We have been denied free and friendly intercourse with our sister states, and our men have been impressed in war against their brothers and friends of kindred races.
The signers of this declaration, and representatives of other independent peoples, who may subscribe their names hereunto, do hereby pledge on behalf of their respective nations, that they will unitedly strive to the end that these wrongs shall be righted, that the sufferings of the world war shall not have been in vain, and that the principles here set forth shall be incorporated in the organic laws of whatever governments our respective peoples may hereafter establish.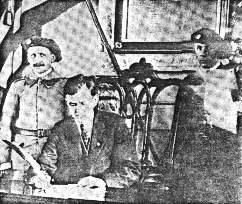 Gregory Zatkovich signing the "Declaration of Common Aims" as representative of the Uhro-Rusyns. (5th signature)
---
Material on this page Reproduced from the Collections of the Manuscript division, Library of Congress
Special thanks to Gayle Harris for researching this material for C-RKB
---
Back